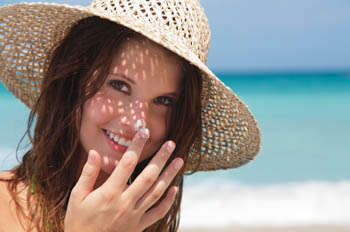 The results of a new study about anti aging skin care lotions were recently published.  The researchers were looking primarily at the UVA protection provided by the products, but there was more to learn from their findings.
The researchers declined to mention the brand names of any of the products they tested. What we do know is that all of them had an SPF rating on the label.
SPF stands for sunburn protection factor.  The higher the number, the better, when it comes to preventing a burn, but burns are not all we have to worry about.
The researchers tested products that ranged in price from $1.88 per ounce to $64.71 per ounce.  They said that the more expensive creams did not necessarily provide more protection than the less expensive ones.
In a different study conducted several years ago, researchers said the same thing about effectiveness.  Paying more does not guarantee results.
Much of the retail price associated with anti aging skin care lotions is due to marketing and markup.  If you find a company that does not pay for a minute long commercial during the Super Bowl, then you can probably get a better price. If you can find a company that sells direct, instead of using retailers, you can definitely get a better price.
The SPF ratings of the products tested ranged from 15-50.  One would think that 50 would be the best.  Not necessarily, according to the researchers.  The "50" means that the product provides more protection against burning, but not against UVA radiation.  It is UVA radiation that causes age spots, wrinkles and cancer.
Of the 29 anti aging skin care lotions tested by the researchers, only 6 contained enough of an active ingredient to provide protection against UVA light.  6 had no active ingredient for UVA protection.  The rest did not contain enough of an active ingredient to provide the desired protection.  In other words, most of what is on the market is ineffective against UVA radiation.
This is not surprising.  Other researchers have been saying for years that people should not rely on a daily moisturizer to provide protection against UVA. They recommend wearing a hat and protective eyewear or using a makeup that contains zinc oxide.
Zinc oxide is one of the few ingredients that do provide protection against UVA.  The problem is that zinc oxide does not disappear.  So it is not a favorite ingredient for anti aging skin care lotions.  You mostly find it in some of the better women's makeup and in products designed specifically as sun blocks.
This is just another example of how careful the consumer has to be.  We need to be able to get past the advertising hype and the misleading marketing statements.  Basically, we need to learn which ingredients to look for and read the labels.
Some of the best anti aging skin care lotions can literally de-age your skin.  You might be surprised to learn that they do not contain sunscreen ingredients.
Be sure to read our page on the best natural skin care products. It is frequently updated and contains information on our #1 recommended product line.

Topics: Age Spots, Anti Aging, Skin Health, Skin Wrinkles, Sun Damage | 3 Comments »

3 Responses to "Anti Aging Skin Care Lotions"
smilinggreenmom Says:
February 3rd, 2011 at 6:48 pm

I love using natural products on my skin and some of my favorite things are straight out of my kitchen – like honey and pure olive oil! I also make sure to take my Vidazorb OPC age defense every day too since it helps me so much with my skin! I feel like these are things I can trust because I dont have much trust in so many products on the market today. It' great to find products we know are healthy and that work!

Face Natural Says:
February 5th, 2011 at 7:27 pm

It's so important to read labels, otherwise you may be wasting your money.

Gina Says:
May 25th, 2011 at 4:30 pm

It is true that there are a significant number of expensive anti aging skin lotions in the market that does not necessarily work better than those with a lower price. The same happens with anti aging treatments offered by spas and medical centers.You can probably obtain the same good results by finding a local esthetician that can provide similar skin care services for a fraction of the cost. I personally live in Florida and found this home based option really effective and most important very affordable:
http://www.facebook.com/pages/Boca-Facial-Fitness/189643917750218