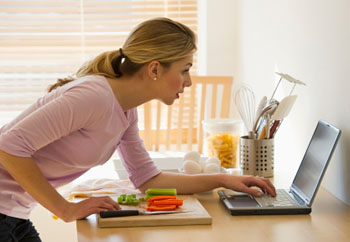 Natural skincare products could be a good choice for people with sensitive skin, eczema, allergies or dermatitis, along with anyone else.  Not all naturally occurring cosmetic ingredients are safe, gentle and non-allergenic, however.
In this article, you will learn which naturally occurring ingredients are most and least likely to cause an irritation or other adverse reaction.  There may be dozens of health and beauty aids in your kitchen, right now.  Here are just a few examples.
Sugar can be used for exfoliating.  Olive oil can be used for moisturizing the skin and conditioning the hair.  Lemon juice and baking soda can be used to whiten teeth and nails.
Honey has antioxidant and antibacterial activity.  Antioxidants are beneficial anti-aging ingredients.  Naturally occurring antibacterial agents reduce bacterial growth on the skin and in the body without harming the environment or contributing to the formation of more antibiotic resistant bacteria.
Shortening can be used to treat eczema or to remove makeup.  Like the other things in your pantry, it will not cause irritations or adverse reactions.
In addition to all of the natural skincare products in your kitchen, there are some excellent professional ones.  The main problem with what's currently on the market is that most companies believe in adding fragrance ingredients to moisturizers, cleansers, shampoos and other beauty aids.
Fragrance ingredients are among the most common causes of allergic reactions.  Even naturally occurring fragrances can and do cause irritation.
You can use rosewater or another plant fragrance to perfume your skin.  Just be sure that the concentration is low enough to prevent irritation.  Too much of a good thing almost always turns it into a bad thing.
Ingredients that are good for moisturizing include Shea butter, grape seed oil and macadamia oil.  They can be found in natural skincare products designed as night creams, daily facial fluids and deep hydrating masks.
According to the latest research, the best anti-aging compounds are BioActive Keratin and nano-lipobelle HEQ10.  You won't find those things in your kitchen.  They are "professional" ingredients.
You might find similar compounds if you take dietary supplements on a regular basis.  BioActive Keratin is actually an active protein.  It can be formulated for topical application or for oral consumption.  It has been investigated as a joint supplement, as well as an active ingredient firming creams
Nano-lipobelle HEQ10 can be found in natural skincare products designed to reverse wrinkles and sun damage.  The formula contains nano-particles of coenzyme Q10 and vitamin E.  In clinical studies, creams containing the formula have effectively reversed wrinkles and sun damage by 30% or more.
The concentrated acidic form of vitamin A is an ingredient that is likely to cause adverse reactions.  Redness, itching and burning are among the symptoms experienced.  As an alternative option, plant extracts such as avocado oil contain beta-carotene, a pre-cursor to vitamin A.  The plant extracts are non-allergenic and non-irritating.
Alpha hydroxy, beta hydroxy, salicylic, lactic and other mild acids are often promoted for exfoliating or anti-aging.  They are not the safest choices.  They can cause the same kind of irritation caused by vitamin A.
Hopefully, the information above will help you choose satisfactory natural skincare products.  Focusing on your skin's health is the best way to go.
Be sure to read our page on the best natural skin care products. It is frequently updated and contains information on our #1 recommended product line.

Topics: Herbal Skin Care, Holistic Skin Care, Moisturizers, Natural Skin Care, Sensitive Skin, Skin Care, Skin Care Ingredients, Skin Firming, Sun Damage | Comments Off on Natural Skincare Products & Ingredients You Can Find At Home

Comments are closed.