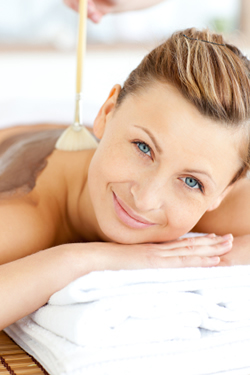 Having sensitive skin can make buying skincare products challenging.  Most contain allergens and irritants.  You have to know which ingredients to avoid and always read the label carefully before you buy a product.
It also helps to know which ingredients are "anti-irritants".  You'll learn about those things here.
Sensitivities may occur immediately after using a product or after the product is used for several days in a row.  In some cases, the skin's surface becomes sensitized to an ingredient after years of use.
Hypo-allergenic formulas are sometimes a good choice.  But, that's not always true.  Labeling a product as hypo-allergenic simply means it is less likely to cause allergic reactions than the "regular" product.  So you have to read the label of ingredients on a hypo-allergenic product, too.
Some of the most common causes of adverse reactions are artificial preservatives and fragrance ingredients.  Some companies help by labeling their products as "naturally preserved" and "fragrance free".  Those are good choices.
If you think that a product might work for you, but you are unsure, you can always do a patch test.  You would apply the product to an inconspicuous area of your body for several days and wait.  If no rashes or other signs of irritation appear, you should be able to use the product regularly.
The best cleansers for sensitive skin are those that are free of sodium laurel sulfate.  If you have acne, a sulfur-based cleanser is a good choice, but you might not like the smell.
Dermatologists suggest that you use a cleanser only when necessary.  Plain water and a clean cloth can be used to wash away the day's dirt and grime.  A cleanser might not even be necessary.
If you have sensitive skin, it is very important to use a moisturizer after every bath or shower and after cleaning your face.
The same considerations concerning the ingredients apply.  Bad choices are moisturizers containing mineral oil or petrolatum.  Good choices are those containing plant oils.
For the face, grape seed oil is a good base ingredient to look for.  It can actually help to repair damage caused by past use of irritating products.  It is particularly beneficial for the delicate area around the eyes.
The use of a night cream containing Shea butter can help to relieve any current irritations.  It has natural anti-inflammatory activity.
Anyone with sensitive skin should avoid products labeled in this manner.  "Do not use on inflamed, irritated or broken skin."  That warning means that the ingredients might be alright as long as the skin's surface is intact.  But, they are known to cause burning or other adverse reactions when the skin's surface is broken.
A protein formula called BioActive Keratin is another soothing ingredient.  It can be found in the better face creams and body lotions.  It has anti-inflammatory and anti-aging activity.  It is one of the most moisturizing ingredients and helps to stimulate the natural cell renewal process.
Don't let having sensitive skin get you done.  The better companies have solutions that help.
Be sure to read our page on the best natural skin care products. It is frequently updated and contains information on our #1 recommended product line.

Topics: Sensitive Skin, Skin Care, Skin Care Industry, Skin Care Ingredients, Skin Care Routine, Skin Health | Comments Off on Sensitive Skin? Here's How to Choose the Right Skin Care Product

Comments are closed.