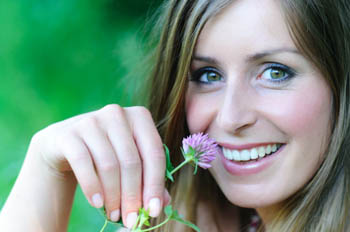 Practically everyone wants younger looking skin, but not many people know how to get it.  Consumers make a lot of mistakes, but it's not all their fault.  The cosmetic companies are at least partially to blame.
Most people know that collagen loss is one of the reasons we start to look older.  Collagen is a structural protein, responsible for the skin's firmness and opacity.
The cosmetic companies would have us think that reducing the visible signs of age is as simple as applying some animal collagen to the skin's surface.  If you've tried it, you know it doesn't work.
There are two reasons it doesn't work.  First, collagen molecules are too large to penetrate through the skin's surface.
Second, denatured animal collagen is not compatible with the skin's own.  It is not bioavailable, which means it cannot be used by the skin's outer cells.
In a recent article, a journalist reported that the most popular ingredient in skincare products these days is hyaluronic acid.  As you might know, loss of hyaluronic acid is another reason we look older.
It is one of the compounds responsible for the skin's strength and smoothness.  It helps to maintain the skin's moisture balance and is needed for the production of new epidermal cells.  People with younger looking skin have high levels of hyaluronic acid.
The journalist spoke with a dermatologist who said that skincare products containing hyaluronic acid would not work.  Once again, the molecules are too large to penetrate.  Cosmetic companies making use of this ingredient rely on the consumers' lack of knowledge about the subject.
Finding compounds that are small enough to penetrate into the skin's many layers has been difficult.  We know that free radical damage is one of the causes of wrinkles and other visible signs of aging.  We also know that the damage occurs throughout the skin's layers, not just on the surface.
Antioxidants can help repair the damage and give us younger looking skin, but only if they can penetrate.  The antioxidant coenzyme Q10 for example is effective at repairing free radical damage.
The antioxidant is now found in many skincare products, because research has proven it can reverse wrinkles and sun damage.  But, coenzyme Q10 only works if the molecules are reduced in size.  Not all companies use the reduced form.
So, now you know one way to get younger looking skin.  Look for a cream or lotion containing nano-particles of coenzyme Q10.  Another ingredient to look for is wakame kelp.
Wakame kelp is a kind of seaweed.  It is an Asian delicacy and a health food.
The benefits of wakame to the skin's health include improved moisture content and soothing relief of sunburn.  But, the primary benefit of wakame is this.  It inhibits enzymatic activity responsible for loss of hyaluronic acid.
There are many other beneficial ingredients.  The key for consumers is to look for an honest manufacturer that designs their products based on the latest in cellular rejuvenation technology.  We could all have younger looking skin.  We just need the right skincare products.
Be sure to read our page on the best natural skin care products. It is frequently updated and contains information on our #1 recommended product line.

Topics: Anti Aging, Anti Wrinkle Creams, Collagen & Elastin, Natural Skin Care, Skin Care, Skin Care Ingredients, Skin Health, Skin Wrinkles | 1 Comment »

One Response to "Choosing the Right Skin Care Products For Younger Looking Skin"
Debra Says:
June 11th, 2011 at 10:46 pm

Sad but true loss of collagen is the number one reason we start looking old! Wouldn't it be nice if our skin could stay as young, healthy and vital as we do mentally? I have researched and tried many products with much frustration and no avail except a few did give a small token of the promises they made. So I am here to share my good news. I am actually very elated and pleased with the results I am getting. Through my research of several years I discovered a process that has been around for many years. It has been and still is utilized in the medical industry and the best thing is that it can be used on the whole body. And it is FDA approved for home use.

You really have to check out this system. It is awesome in all the benefits it offers.

Good Luck and Warm Regards, Debra