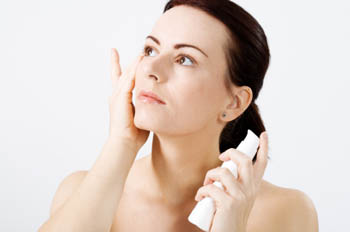 I originally wanted to provide 100 natural skin care tips in this article.  All together there are more than a dozen tips.
The most important is to moisturize, and repeat.  In fact, you can repeat that as many times as you like to make up the difference between the number of tips provided here and one hundred.
I have seen people spend thousands of dollars on anti-aging treatments of all kinds.  They spend hundreds of dollars on various skincare products.  They try different name brands, use exfoliants, toners, masks and concealers.  The product they overlook most often is a moisturizer.
Dermatologists agree on this subject.  Failing to use a good moisturizer is a big mistake.
Books have been written about how to prevent or reverse the visible signs of aging.  No matter what your age, it's never too soon to start thinking about that.
You can and should eat more fruits and vegetables.  They are loaded with antioxidants and your skin's antioxidant content is very important.  The content decreases with age.  That is one of the primary causes of the visible signs of aging.
If I did have 100 natural skin care tips for you, these five would be included in the section about what you eat and drink.
Eat more fish for protein and essential fatty acids
Avoid simple carbohydrates—they cause inflammation and cellular aging
Be sure to get enough protein—the body needs protein to build collagen
Drink plenty of water—has to do with the skin's moisture content
Take some anti-aging dietary supplements—they may help keep things like free radical damage to a minimum
Holistic practitioners have always recommended that we maintain the skin's health from the inside out and from the outside in.
What you eat and drink, the supplements that you take and the foods you avoid cover the "inside out" part of the equation.
When it comes to the "outside in" part, the first rule is: Never apply anything to your skin's surface that you could not eat.
Holistic practitioners do not have 100 natural skin care tips, but there are thousands of common cosmetic ingredients they want us to avoid.  Most of them are petrochemicals; derived from crude oil or petroleum.  They are poisonous to our body's organs.  The skin is the largest of the body's organs.
One of the easiest ways to select cosmetics is to read the label of ingredients and buy only those that contain naturally occurring ingredients.  Are there 100 natural skin care ingredients? There may be.  Here's a list of some of the most beneficial.
Grape seed oil
Olive oil
Shea butter
Wakame kelp extracts
Coenzyme Q10
Vitamin E
Maracuja
Passion flower
Canadian brown algae
Allantoin
Palm oil
Beeswax
Jojoba
Bioactive keratin
You will find more information about each of these ingredients in some of my other articles.  Just remember.  Even if you have 100 natural skin care tips to follow, moisturizing is the most important one.
Be sure to read our page on the best natural skin care products. It is frequently updated and contains information on our #1 recommended product line.

Topics: Natural Skin Care, Organic Skin Care, Sensitive Skin, Skin Care, Skin Care Ingredients, Skin Health, Skin Wrinkles | 1 Comment »

One Response to "100 Natural Skin Care Tips – More or Less…"
Mineral Skin Care Says:
September 16th, 2010 at 6:10 am

There is also a notion that people who have oily skin should not use moisturizer. Which is not true. It will actually reduce the production of sebum. It will give signal to oils glands not to produce more oil.