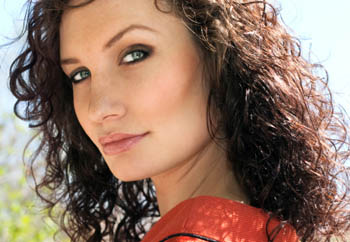 A natural wrinkle cream containing antioxidants, proteins, plant extracts and nourishing oils could be exactly what you need to improve your skin's health and appearance.  Here's a look at the benefits of specific ingredients.
Grape Seed Oil
Grape seed oil can be used for cooking.  Some chefs like it because of its unique "filming" ability.  It forms a film over the pan and the vegetables being cooked.  This allows them to use less oil.
When applied to the skin, the film acts to hold moisture in.  The benefits of use may include reduced wrinkles, scars and stretch marks.  It can help improve circulation.  Because of its antioxidant activity, it protects against free radical damage (one of the causes of cellular aging) and it may reduce your risk of skin cancer.
You can purchase grape seed oil at gourmet food stores and use it "as is".  Or, you could look for a natural wrinkle cream that contains it.  It may be particularly beneficial for repairing damage around the eyes.
Wakame Kelp Extracts
Wakame is one of the most nutrient-rich varieties of kelp.  Kelp is simply another name for seaweed.  It is sold in health food stores around the world.  The extracts must be properly prepared in order to be used on the skin.
The minerals in wakame are necessary for balancing the skin's moisture content.  The extracts have antioxidant activity and contain B vitamins that help to provide protection from sun damage, another cause of wrinkles.
But, the primary benefit of wakame has to do with the skin's hyaluronic acid content.  Along with collagen and elastin, hyaluronic acid is essential for smooth, firm skin.  Without wakame, the skin's hyaluronic acid content decreases with age.  Wakame keeps that from happening.
Coenzyme Q10
Any natural wrinkle cream worth its price will contain coenzyme Q10.  There is more scientific evidence supporting its benefits than there is for any other single ingredient.
Coenzyme Q10 is a popular dietary supplement.  It is particularly beneficial for the heart.  It keeps heart rates stable and helps with some kinds of murmurs.
The concentration of coenzyme Q10 in all of the cells of the body starts to decrease with age.  The skin's COQ10 is quickly depleted during sun exposure.
Scientists have had to reduce the size of the COQ10 molecules in order to allow them to penetrate deep into the skin.  A natural wrinkle cream containing this reduced form is beneficial for reducing wrinkles and reversing sun damage.  It not only protects against free radical damage.  It reverses it.
Vitamin E
You might not know that most of the vitamin E for sale in the US is synthetic, derived from petrochemicals.  There are only a few companies that still use the naturally occurring form of the antioxidant.
The benefits of use may include a reduction in fine lines and the prevention of age spots.  It can also be used to replace the irritating artificial preservatives that so many companies use.
There are other ingredients that should be included in natural wrinkle cream.  You might want to learn a little more about them before you buy.
Be sure to read our page on the best natural skin care products. It is frequently updated and contains information on our #1 recommended product line.

Topics: Anti Wrinkle Creams, Herbal Skin Care, Holistic Skin Care, Natural Skin Care, Organic Skin Care, Skin Care, Skin Care Ingredients, Skin Health | Comments Off on 4 Important Ingredients in Natural Wrinkle Creams

Comments are closed.