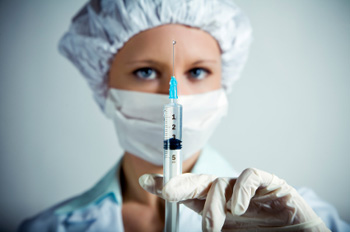 It can take time to fill in wrinkles without injections, depending on the wrinkle depth.  Fine lines may fade relatively quickly if the right anti-aging moisturizer is used on a daily basis.  Deeper lines will appear less deep, but it usually takes several months to see a noticeable difference.
To see the biggest results in the least amount of time, you should address the issue from many different fronts.  Being careful about the things that you apply to your skin is obviously important.  But, there are dietary and lifestyle factors that can make a difference, too.
First, you need to slow down the aging process by addressing the things that cause skin aging.  Photo-aging is one of those things.
Photo-aging may include wrinkling, dryness, roughness, sagging and uneven pigmentation.  It is caused by exposure to UV radiation, usually from the sun.
UV rays cause the number of free radical molecules within the skin to increase.  Antioxidant levels (especially coenzyme Q10) are quickly depleted during sun exposure as they work to neutralize the free radicals according to researchers.
So, in order to fill in wrinkles without injections, the first step is to protect your face from the sun.  You can get the sun that you need for vitamin D production by exposing your arms and legs for 10 minutes or so per day.
The second step is to use an anti-aging cream that contains tiny nano-particles of coenzyme Q10.  This will help to supplement the skin's naturally occurring COQ10 levels.  Research indicates that using a cream containing the antioxidant on a daily basis for three months reduces wrinkle depth by 30% or more.
That's the time period that researchers usually use when evaluating ways to fill in wrinkles without injections.  A daily fish oil supplement increases the skin's firmness and smooths out fine lines after three months.  An under-eye gel containing protein fragments reduces bags, puffiness and dark circles in two to three months.
One of the fastest working compounds is BioActive Keratin.  It increases the skin's elasticity by 40% and reduces fine lines in as little as 18 days.
The better manufacturers believe that including some of the most effective compounds in a single anti-wrinkle cream will provide even faster results.  Scientists agree.
It just makes sense that combining the use of the best anti-aging creams with lifestyle changes like protecting the face from the sun would work even more quickly to fill in wrinkles without injections.  Add to that some good dietary supplements like fish oil and you have a fast and effective formula for success.
Be sure to read our page on the best natural skin care products. It is frequently updated and contains information on our #1 recommended product line.

Topics: Anti Wrinkle Creams, Natural Skin Care, Skin Care, Skin Health, Skin Wrinkles | Comments Off on Fill In Wrinkles Without Injections? A Few Simple Steps

Comments are closed.